Happy Thursday, Beer League!
We're going to jump right in - no Beer Leaguin' around this week. Well, minimal Beer Leaguin' in this here post - maximal Beer Leaguin' at The Waiting Room this Thursday.
This weeks beer is Breakfast Stout from Founders. You may remember Founders & Breakfast Stout as being a beer that Robert the Frequent Sub-Captaineer, days after having one, is often heard soapbox preaching to anyone within earshot.
Or you my remember Founders & Breakfast Stout from the absolutely stunning artwork on their original packaging for Breakfast Stout. They removed the baby from the label due to some weirdo beer packaging / advertising laws that don't allow the inclusion of children in beer advertisements or packaging and labeling. I'm not sure how long the baby will be riding out the storm, and if it's just a regional or national ban on babies selling booze - but it's bye-bye baby, nonetheless.
But you should definitely call 616-522-2720 (the number on the label, btw) and leave a message for the Founders Baby.
Straight From The Website
The coffee lover's consummate beer. Brewed with an abundance of flaked oats, bitter and imported chocolates, and two types of coffee, this stout has an intense fresh-roasted java nose topped with a frothy, cinnamon-colored head that goes forever.
Founders Breakfast Stout
The coffee lover's consummate beer.
5/5
"Let me start by saying I am for sure an IPA/DIPA guy, but this beer knocks any DIPA or IPA I have ever had out of the water. In fact, it turned me into an advocate of stouts.

Dark brown/black pour. Mocha colored head. Smells of coffee and chocolate-caramel. 

Tastes the way it smells. Absolutely mind blowing taste of sweet chocolatey coffee. The alcohol is almost completely masked by this dessert-esqe beverage. I received this in a trade, and immediately made a FT ISO thread to get more sent to me ASAP.

I don't care who you are or what you like, you will love FBS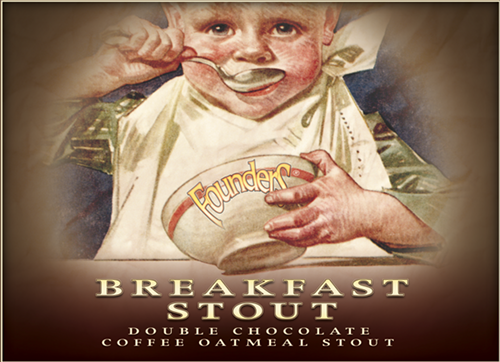 10/10
Good thing I LOVE coffee. Pours a motor oily thick black with a light brown head. Incredibly beautiful aroma of potting soil, roasty coffee and piney US hops. Taste has big notes of coffee and coffee, chocolate, earthiness, roasted malt, hops, some dark fruit and rum; awesome. Very full, round and creamy on the palate; seriously - the body on this beer HAS to be the silkiest thing on the planet. The great roastyness lingers forever. I have had this beer on four separate occasions over the past couple years; (full bottles) it never ceases to amaze. Perfection.
Reserve your Thursday for Beer League
I mean - there are some bad reviews on BA & RB. But by "bad reviews" I mean reviews that are only like 3.5/5. This beer is universally loved by anyone willing to drop their guard and let in that sweet, sweet Breakfast Stout.
See you tomorrow, Beer Leaguer.