Brewer's Description!
American-Style Pale Ale
Superfuzz Blood Orange Pale :: Call it Orangesploitation. There's a new beer in town--Superfuzz Blood Orange Pale--and he's sticking it to the Man. Superfuzz is a beer you can get behind, with Pale, Munich and Dextri-Pils malts and German Northern Brewer and Cascade hops to bitter and flavor. But it's Citra, Amarillo and blood orange peel and puree that'll really get you on your feet. Never dance? We'll see about that. With a 5.4% ABV and layer on layer of mystical complexity, Superfuzz is shining, streaming, gleaming, flaxen, waxen.
ABV: 6.4%
IBUs: 45
Availability: Summer
Glassware: Pint Glass
3.65/5
L - bright orange, with 1 finger of head and lots of lacing
S - citrus hops but fairly faint
T - citrus, but not enough bitter or malty bite
F - medium body and carbonation
O - an ok pale, but Elysian has much better brews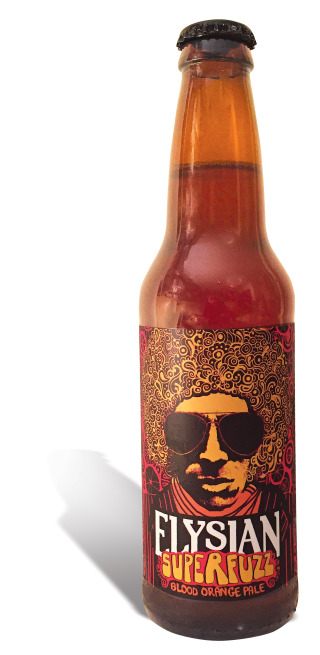 4.8/5
This is like drinking the BEST grapefruit EVER. Yes, I know it's brewed with blood orange. But the finished taste is more like grapefruit. And I srsly love it. SRSLY.
We send out the beer every week in an email as well - some people like that more than having to go through the website or checking our facebook. So join up!
Get the Beer League Email!