Kaldi's Chai Stout, Blueberry Blonde, Irish Red - Ferguson Brewing Takes Over Beer League!
Two weeks in a row, two tap takeovers from two awesome local breweries! This week we're going to have three taps from Ferguson Brewing with Kaldi's Chai Stout, Blueberry Blonde, and an Irish Red for League - with a chance to add three more stamps to your Beer League card. Three more stamps towards a free beer, too!
As with any Beer League takeover we're having some beers whose descriptions aren't easily dug up. So let's put on our Drinking Caps™ and do some guesswork on what we think these beers may have in common with their names! Beer League Name Game with no fo-fannas.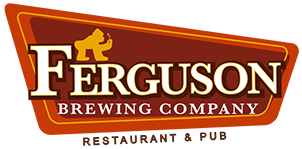 Kaldi's Chai Stout
We're looking for the rich and robust body of a stout mixed with the spicy-sweetness of a lighter chai tea. Maybe this stout won't have the punch of coffee and toasted beans that we're used to - maybe this has a lightness, with a head that laces with spicy little chai bubbles. Let's drink this now.
Blueberry Blonde
Now a Blueberry Blonde seems pretty self-explanatory, and let us say, a refreshing break from the boozy Christmas Ales and All Pumpkin Everything that we have been / are being overloaded with. I want a lighter crisper beer that snaps back and the chill in the air. I want it to be drinkable, and I wonder if it will be blue or purple or none of the above maybe. We're really intrigued by this beer and are really interested in drinking one or three and figuring it out. 
Irish Red
The copy-pasta description of an Irish Red Ale from BrewWiki says, "Irish Red Ale is an ale originating in Ireland that has a reddish hue from the inclusion of a small amount of roasted barley. In America, some darker amber ales and ales with artificial coloring are also labeled as red ales. Irish red ales are red variations on typical English and Irish ales. Surprisingly, Irish Red Ale has not had a huge impact in Ireland's current beer market where Stouts, Porters and Lagers are more popular. Medium light to medium body. Low to moderate malt aroma. May have slight roasted grain flavor. Low hop aroma. No hop flavor. Amber to deep-reddish color. Clean finish. No esters. Easy drinking ale with a reddish hue. Clean flavor with a caramel malt flavor and a hint of roasted grain. Smooth with moderate carbonation."
I'd say we need to set no further standard for that! We'll see you tomorrow night for some new beers with Ferguson Brewing!
The St. Louis Art Machine is a collaboration of St. Louis artists selling art for $5 out of cigarette machines.
What in the hell is a St. Louis Art Machine, you ask?
The St. Louis Art Machine is a repurposed cigarette machine owned by Sarah Harris, made mechanically sound by Tyler Harris, and filled with the tiny, cigarette-pack-sized-arts of local artists and makers.
Because of our desire to make small art affordable and approachable, all works are set at a flat-rate of $5 ea.
Currently the St. Louis Art Machine is installed at The Waiting Room Bar & Venue, where it will reside for about four months until it moves to its next home with a new set of artists.