Beer League is turning Six! Six years of getting together every Thursday to try a different beer . Six years of field trips to local breweries. Six years of fires out back on the patio laughing and arguing about if you'd rather fight 1 AB-InBev sized Schlafly or 100 Schlafly sized AB-InBevs?
In celebration we're hosting the traditional Beer League Pot Luck - and that means that James is making some vegetarian chili, as it was prophesied.
You can bring whatever - a dip, a burrito to share, two burritos to share, grilled cheese sandwiches, award-winning chili that has meat in it, hot dogs, BBQ ribs, a dozen roller meats from QT, non-award winning chili, pancakes, lizards, pancake lizards - the options are limitless!
The only thing that we ask is that you bring something delicious to share with everyone!
This weeks beers!
You read that right - plural, suckers!
Yeah, you read that one right - we have three beers for you to try this week. All are from Sam Adams (or The Boston Brewery if you're a true pedant) and all are from their new line of nitro cans.
They're different than your usual nitro offerings and we're excited about the prospect of having nitro cans to be able to take with us in places where glass isn't allowed. We'll have a running poll on our Facebook page on Thursday for you to vote on which one is your favorite - because you get a stamp for EACH ONE!
Who loves ya, Beer League!?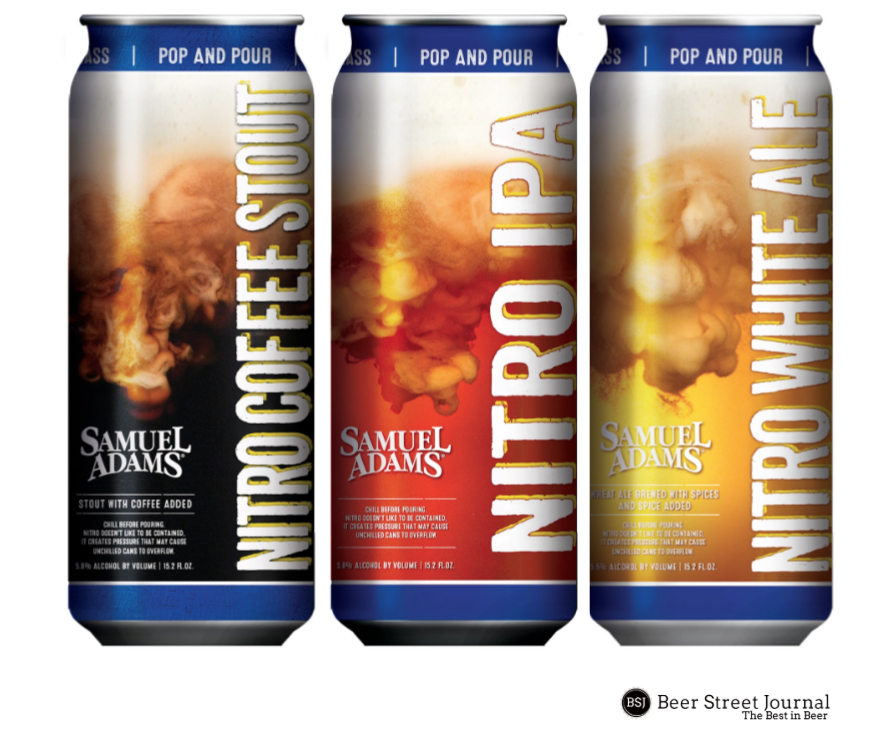 Let's learn more together
Here's what Sam Adams has to say about Nitro Cans!
Nitro IPA
Our Nitro IPA is boldly bitter yet surprisingly smooth. Nitro can mute aroma and leave bitterness, particularly in IPAs, so to stand up to the creaminess of nitro we used heavy doses of dry hopping to achieve the resinous pine, spice, and citrus hop character we love. A fortitude of hop character remains with notes of resinous pine and citrus for a flavorful, lingering finish.
Ratebeer Reviews
This week you get one review of each beer! Oh yeah!
rjplumber – 16/20
Nitro White Ale
Lemon and coriander aroma. Hazy golden body with a pinky finger thick head. Smooth textured with a tart lemon taste.
altonbrownd – 15/20
Nitro IPA
Tall can from Beer and Wine, Chevy Chase MD. Very cool pop to the can as it pours out. Nice bold amber body with healthy head. Nose is very hoppy of many varieties. Taste is really nice with plenty of hops in there and very creamy and oh so smooth. Really well done.
No Reviews
Nitro Coffee Stout
Just our luck... no-one has reviewed this can on RB yet - but you could be the first!
See you on Thursday!
We're excited to celebrate the six years we've been able to have Beer League at The Waiting Room with your support - and we're excited to get to celebrate with you! Between seeing all the names on the Beer League Plaque of Fame and the amount of good things that we've done (in addition to drinking beers) like food drives, supporting local business & workers in need, field trips, brewery events, and all the chili cook-off's and wing-dings at The Waiting Room we've made six years fly by.
And they flew by not just because of the camaraderie and friendships that we've made at League, but because we've managed to take what was once a tasting club and watch it become a weekly community based event that focuses on people as much as it focuses on beer.
Thanks for being those people, Beer League.
Upcoming Events
Don't miss out!