Pulp Fiction is over 20 years old. Beer League isn't nearly that old but we cuss as much as most Tarintino flicks and we like jokes and milkshakes and doing the twist. We'll take a hard pass on Zed's of any sort or living in boxes. We're in for choppers though.
In the movie Pulp Fiction one of my all time favorite jokes gets told by Mia Wallace after a real rollercoaster of a night.
So there's Papa Tomato, Momma Tomato and Baby Tomato walking along the street.
Baby Tomato starts lagging behind, and Papa Tomato starts getting really angry.
So, he turns around and squishes Baby Tomato and says, 'Ketchup.'
Ketchup.
This weeks beer isn't a beer but rather a beers. After hanging out with everyone from Charleville Brewing and The OG last week we're gonna keep it low key and low stress. Choose from our remaining beers from the last five weeks that we have left; Charleville, Piney River, Santa Fe Brewing, Schlafly, or Founders.
There might be another mystery option in there too. Each catchup beer you have tonight will earn you a stamp, so you won't miss out on those weeks you did yardwork all evening and noped right outta League.
We get it, bagging leaves feels pointless. End result looks good though, especially with a beer.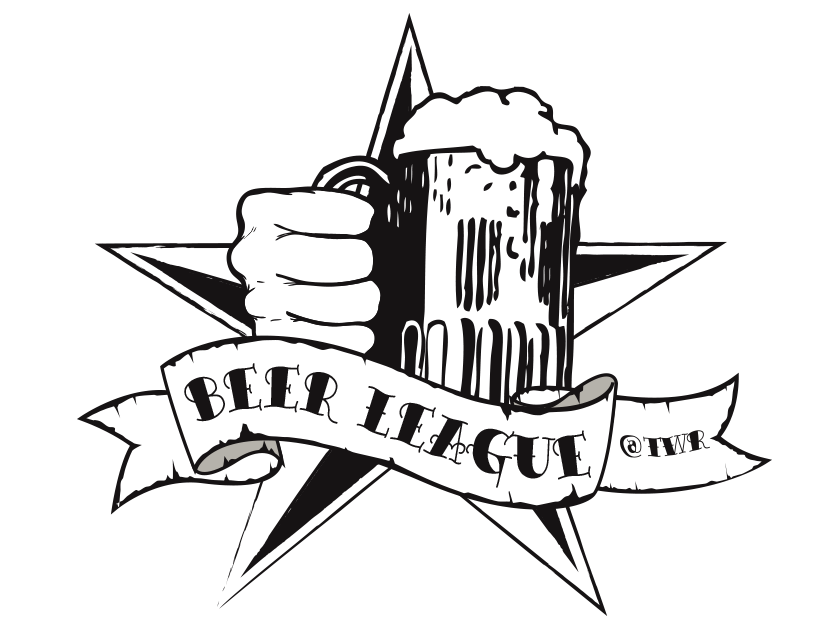 Half-Wit Wheat
[brewerydb_beer id=xZhZ36]
A cross between an American Wheat and a Belgian Wit, this refreshing ale is made with white wheat, ground corriander, and fresh whole oranges! Simply delicious served with a slice of orange.
Late Night Karate Kicks
Charleville Vineyard Microbrewery
website
 
Notes & Commercial Description:
Late Night Karate Kicks is made with "Highlander Grog" coffee roasted by St. Louis's own Chauvin Coffee Co. Not just for breakfast; LNKK is black as night with a coffee kick that will keep you rocking all night long!
Schlafly Dry Hopped Farmhouse Ale
[brewerydb_beer id=rDaPnC]
Hot Date From The Piney River Brewing Company
[brewerydb_beer id=qRe5uz]
Adobe Igloo
Adobe Igloo is our New Mexican answer to the classic Winter Warmer: dark red, full bodied, and malty.  Traditionally balanced with extra hops or a Wintery spice blend, we instead drew on our culinary heritage and focused on cacao nibs and red chile flakes.
Offering chile flavor without heat and dusty raw cocoa rather than sweet chocolate, Adobe Igloo's intriguing complexity will keep you coming back, sip after warming sip.
Dark Penance From Founders Brewing
[brewerydb_beer id=Z0WnFL]
Let's Ketchup Together, Tonight
We'll probably be indoors due to inclement weather, but if everything dies down and it's not too windy we'll have a fire out back. We're also putting together a steel tip dart league. It's in its early stages right now, but should be going soon and we'll keep you posted so you can brush up on your skills.
We'll also be playing a ton of X-Files pinball with our ketchup.
Upcoming Events at The Waiting Room
Don't miss out!
KETCHUP ON PAST BEER LEAGUE BEERS
Because you probably missed one!